Duration:
Classroom
Virtual

3 Full Days, 09:00 AM - 04:00 PM

3 days x 3 sessions daily - flexible hours

(10:00 - 12:00 & 14:00 - 16:00 & 18:00 - 20:00)
Date: Recurring - select the date based on your schedule
Location:
Cairo / Alexandria
Dubai
Virtual
Fees:
2,000 L.E. per attendee
$300 per attendee
50% discount
(20 reward points)
(10 reward points)
Instructor: Our qualified and experienced instructors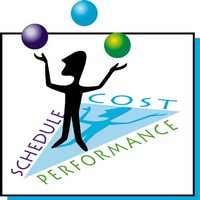 Description: This workshop introduces the concepts of project management, intended to familiarize attendees with the project management discipline, and walk them through the project management phases and practices.
This workshop is not intended to prepare attendees for any exams or certifications, it is targeted to project managers appointed to the role, and project team members, as well as other staff involved in project work.
The workshop is practice oriented, and includes the following activities performed after each section of study:
Overview on using MS Project during planning and tracking
Walkthrough sample project documents and applicable templates
Hands-on group practice sessions
Attendees will receive handouts of the training materials. Free catering and beverages are available all day long, and free lunch meal is offered. A certificate of attendance will be issued to attendees at the end of the training.
The workshop outline is as follows:
Introduction

What is project management?
Why do we need project management?
What are the project manager role and responsibilities?
Project Management Frameworks

Main Terminology

Scope
Schedule
Plan
Risk
Procurement
Stakeholder
Team

Project Leadership Skills
Organization Types
Project Management Lifecycle

Project Lifecycle vs. Product Lifecycle
Project Phases

Project Initiation

Creating the Project Charter
Stakeholders Identification

Project Planning

Scope Planning
Stakeholder & Communication Planning
Quality Planning
Duration Estimation
Activity Sequencing
Developing Project Schedule
Risk Planning
Resource Planning
Cost Planning
Procurement Planning

Project Execution & Monitoring

Team Management
Change Management
Procurement Execution
Schedule & Cost Tracking
Risk Monitoring & Control
Stakeholder Engagement
Performance Reporting

Project Closure

Closure Activities
Post Implementation Review
Lessons Learned Collection
Note: This is not a certificate preparation course