Duration:
Classroom
Virtual

3 Full Days, 09:00 AM - 04:00 PM

3 days x 3 sessions daily - flexible hours

(10:00 - 12:00 & 14:00 - 16:00 & 18:00 - 20:00)
Date: Recurring - select the date based on your schedule
Location:
Cairo / Alexandria
Dubai
Virtual
Fees:
3,500 L.E. per attendee
$550 per attendee
50% discount
(35 reward points)
(17.5 reward points)
Instructor: Our qualified and experienced instructors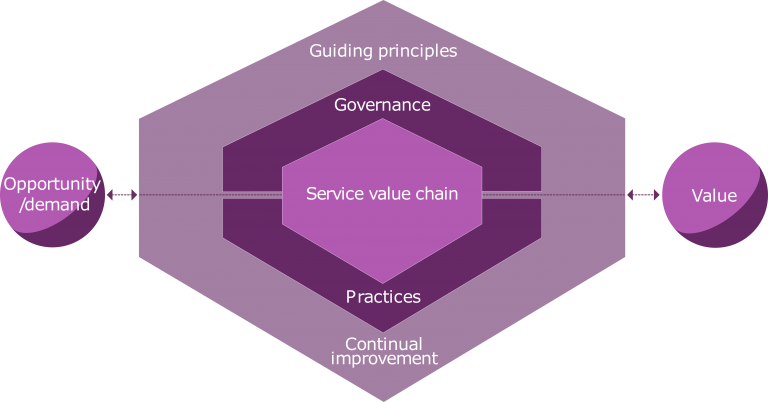 Description: This course gives an overview on ITIL® framework and best practices for IT Service Management. It prepares the attendee for the ITIL Foundation exam. The course will explain the certification process and levels, as well as practice sample exam questions, but doesn't include the exam itself. ITIL is a well known framework for IT Service Management, that's widely accepted and applied world wide. ITIL certified professionals are highly sought by many organizations, and ITIL certification is a requirement in increasing number of job openings. Attendees will receive handouts of the training materials. Free catering and beverages are available all day long, and free lunch meal is offered. A certificate of attendance will be issued to attendees at the end of the training.
The course covers the following topics:
ITIL 4 Overview
Key Concepts of ITIL
The ITIL Guiding Principles
The Four Dimensions of Service Management
The ITIL Service Value System (SVS)
The Service Value Chain
Governance
Continual Improvement
ITIL Practices
Register for this training course, and get a free copy of the first part of this set of books

ITIL® is a registered trademark of AXELOS Ltd.